SEO for Accountants:
An Undiscovered, Uncompetitive,
Lead Goldmine
Accounting SEO Strategies are Largely Undiscovered, and is Ripe to "Get in Before Competition"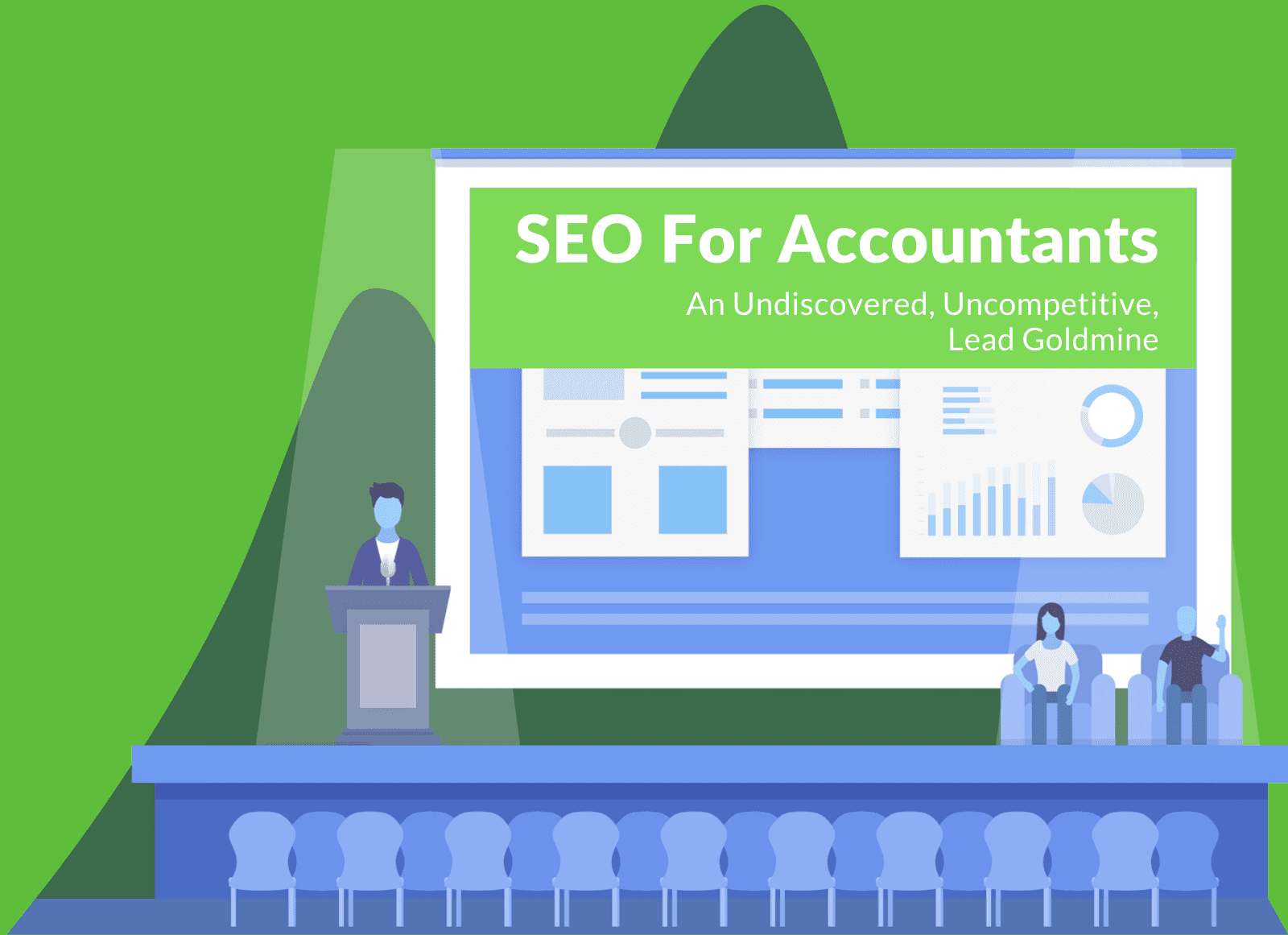 SEO has been around for a long time, SEO for Accountants has been a relatively untouched opportunity.
This means that there is low competition.
When your accounting firm website shows up at the top of search results, below the ads, people trust you a lot more, automatically, than if you were paying to be there. They see that as Google recommending you.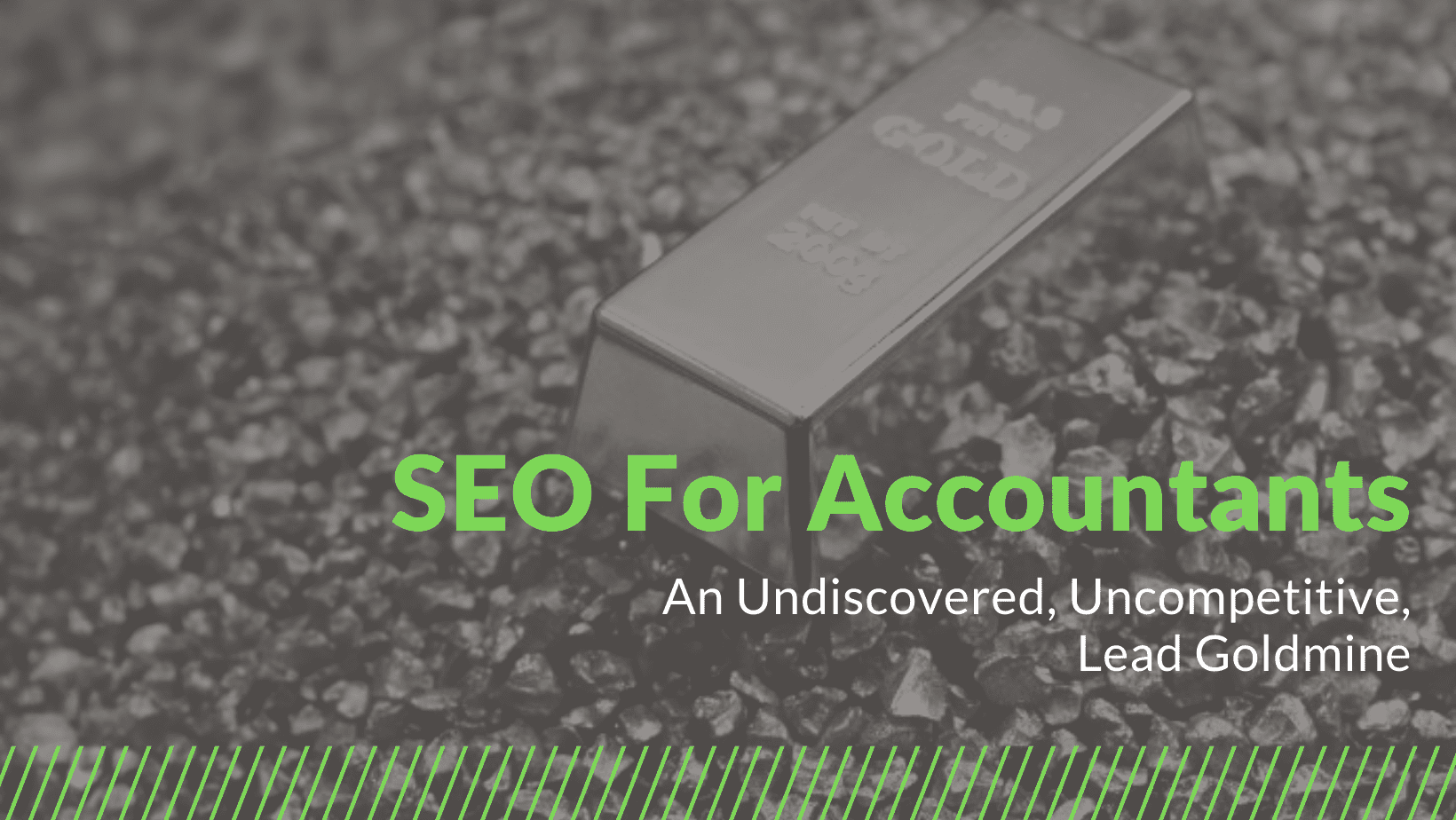 SEO has been around for a long time, SEO for Accountants has been a relatively untouched opportunity.
This means that there is low competition.
When your accounting firm website shows up at the top of search results, below the ads, people trust you a lot more, automatically, than if you were paying to be there. They see that as Google recommending you.
It's similar to if you were at a networking event, and get recommended by the host.
You'll probably get business, right?
Google has thousands of users asking for new accounting firm recommendations daily. These are all potential clients for you, and getting your Accounting firm's SEO strategy right means you will pick this new business up, simply by showing up and being trusted by Google.
When I said low competition search engine optimisation for Accountants, i meant it too. It's easier than other industries to get your accounting firm website to show up first in search results. Simply because not many others are doing it.
Sounds good?
Alright, let's learn what the best SEO for Accounting Firms strategy is. We'll first discuss what SEO is and why SEO for Accountants requires a specific strategy. We'll then look at a few steps to set up your search engine optimisation strategy between your Accounting firm and Google.
What is SEO for Accountants? Why Does it Matter for Accountants?
SEO is the act of making your Accountants website show up at the top of search results. SEO stands for Search Engine Optimization.
This is not a new concept, SEO has been around since before Google came into existence and became dominant in 2004 . SEO is promoting your business to real people looking for what you offer from their search engine. SEO is showing up, being found when people search for what you do, and getting those visitors to convert into paying clients.
This adds value to your business, because you're getting referrals to the business, not just you. Yo
SEO for Accountants is about trust. When SEO has been done correctly and the accounting firm website is seen as a trustworthy resource by Google, then leads will come knocking automatically. So yes, it does matter for Accountants. We want to make sure your accounting firm is at the top of search results when people search for "Accountant Brisbane" – or for your area. For example, in our case, our website page on "Brisbane SEO" is one we want to show up first in Google search results too. SEO is an effective digital marketing strategy for accountants, because just like your relationship with your clients – it's all about trust.
What's the Best Overall Accounting SEO Strategy To Focus On?
Focus on Niches & Local Areas with your SEO and Social Media strategy.
It's that simple, really.
Don't go out there and target 'Accounting Australia' or 'Business Accountants'
Those are too hard to get ranking for on google, even with quality content. They will take years to rank for.
Instead focus on more relevant ranking terms, that are for smaller niches.
Like someone looking on Google for 'Tech Startup Accountants'
or someone searching for "Accountants in Bowen"
See those are really specific services, niches, or areas.
For Accountants, if you do the research and find out specific terms to focus your digital marketing (optimisation) on – you'll rank for those terms faster, and pick up more local and targeted businesses to provide specific service to.
This is where Accounting companies go wrong, they go for big potential clients with big general terms like wanting to show up for 'Accounting Company.'
What a competitive term! Because lots of people want to rank for that and get potential client calls from people searching that term, it will take so long to rank for, and require lots of effort. Most give up halfway, wasting thousands in marketing costs and time.
So research, research research!
Find the industry (or industries) you want to target.
Then get your websites content & digital strategy aligned with that industry (or industries) to get more visitors to your website and a higher number of client calls. These are highly targeted visitors and client leads, and after a while, you'll consider them free! Given you've invested early in SEO for Accounting and the websites contact form will now being filled in constantly and generating new business.
Step One: Determine what SEO keywords for your Accounting Firm to Show Up For
For Accountants, it's important to determine where you want to show up in Google, because it takes time and money to get a ranking position. If you are doing it all for a keyword that won't make you money, then it's the wrong keyword.
You need SEO keywords for Accountants that will get you clients.
A keyword is a word or phrase that people use to search in Google, like " accounting services Brisbane" would be one where people that search it, are likely looking for a new accountant. So that is a keyword you might want to show up for.
To find SEO keywords that are right for your Accountant SEO strategy, do this:
1. Go to SEOquake . SEOquake allows you to see everything on the first page of Google for a certain area.
2. Search for your most popular services, such as "Accountant Brisbane".
3. See what keywords people are using to search in SEOquake and determine what SEO keywords they might be looking for that your business offers too.
Then, try to rank for those SEO keywords for your Accounting SEO strategy. Our SEO Services can take care of this. But if you want to do it yourself, read on.
Step Two: Optimise your website for your target keywords
A business website SEO checklist is a good place to start. We've made a checklist on SEO for Accountants below – so make sure your company follows this and you'll have more potential clients in no time.
The SEO checklist below will show you how to optimise your Accounting firm SEO strategy so that you can get more clients from local search results:
SEO Header Tag Optimization: Your H1 tag should be something like "Accounting Services Melbourne" or "Accounting SEO Brisbane".
SEO Image Optimization: Make sure that your accounting firm site has a clear image of what you are about, and make sure it is optimized for SEO. The way this works is Google will see the images on your site and if it's relevant to a category / keyword then it will give you extra SEO points.
Keyword Optimization For The Home Page: On your business home page, make sure you have a sub heading "Accountant Melbourne" or whatever you want to show up for in Google. Also, include the most important keyword in the first paragraph, preferably in the headline / title of the article.
SEO Meta Tag Optimization: Make sure your SEO SEO specialist makes your SEO meta tags up to 100 characters, so that the SEO title tag and SEO description are completely filled out. This will give you a better SEO rating in Google's eyes.
Website Page Title Optimization: The page title for each web page on your Accounting site should be optimised to target specific Google searches. For example you might have a page that says "Accounting Services for Small Businesses in Perth." There, you are trying to show up where small businesses might be searching.
SEO Tag Optimization: Make sure your SEO Services specialist does their job and fills in the SEO tags for each web page on your Accounting SEO site so that Google knows what is on every page. You can also do this yourself if you like.
These are just a few steps you should be doing for your Accountant SEO strategy.
Step Three: Create SEO Content For Google And Your Target Clients
The theory is that if you create great content, then the whole search algorithm will give you better rankings. It's not just about keywords, it's about creating good SEO content for your target clients. So write blogs that are helpful for clients, such as blogs around tax tips, how to minimise your tax or what you can claim when it comes to Christmas parties for small businesses (those are just some examples). If it's good content, and website visitors stay on the page for a long time – Google will definitely make that web page, and other pages on your website, show up earlier in search results.
Step Four: Link Building SEO For Accountants To Give More Visibility In Google Search Results
Link-building for accountants is very valuable when it comes to search engine results for Accountants. SEO for Accountants doesn't help unless people write about you – it's a two way street with SEO.
So you need to get people to write about your firm. This could be when another website references your content on their website.
They might give a link back to the resource on your website.
Google then sees that and registers it as 'authority.' Because if other websites send their visitors to your website, then they obviously trust you. So Google thinks you have good content, and will rank you better in search results.
Search engines like Google are always looking for who to trust, and Accounting firms are often very similar. So it's important to give search engines the 'indications' they need to know you are trustable. This is where a specialist who works in SEO for Accounting firms will be able to help. A specialist Accounting SEO Services provider (such as what we offer) will work to provide you with good quality links that search engines will pick up on, and rank your site higher with.
This can be one of the less known forms of marketing that provides you with a better search engine 'score' and ultimately better search rankings.
You build your online presence, and get the most out of your Accounting firms web design, as you drive more people to it.
Tips for Your Accounting Firm's Website Search Engine Optimisation and Overall Digital Marketing
You can use software to help improve your site and boost your business to get more clients.
One such software plugs into your Accounting firms site.
'All in One SEO Pack' by SEO Ultimate is a free WordPress plugin (it's similar to Yoast SEO, but better). SEO Pack is one of the SEO best SEO plugins for WordPress, and SEO Ultimate make a fantastic SEO plugin. Installing SEO pack will help you get SEO right for your Accounting firm online using your existing wsite. It will help form your SEO strategy for the Accounting industry.
How to Use this SEO Plugin For WordPress?
The first thing to do is install the SEO plugin by going to 'Plugins' in your blog menu.
Then you install SEO Ultimate (you can also download SEO Ultimate from SEOUltimate.com). You then go to
SEO->SEO settings . Then click 'install.' It will now go through your blog and suggest some SEO tags, so that Google knows what words are on each page of your Accounting firm site. These SEO tags help Google understand what your Accounting firm offers, what you do and the services you provide – for example "Business Development Services in Cairns."
If you have blog posts on specific topics, then type those tags into the box provided to help search engines understand better what your content is about (and so people can use Google to find it).
Then you go to SEO->Links. You can search for your SEO keywords in the box provided, and SEO Ultimate will automatically generate backlinks on your blog so that it appears in Google's index when someone searches a keyword term (like 'Business Development Services in Cairns.'
You then go to SEO->General, and check out how you are doing SEO wise with SEO score. SEO score is a score out of 100 that SEO Ultimate gives you to show how Google sees your site, and sees what keywords are on it. SEO Score tells you which SEO tags need improving or need adding.
A high SEO Score shows that Google trusts the content on your Accounting firms site.
You can get this basic search engine optimisation done by someone in your office. Even your technologically adept admin staff can be great for implementing this. If they struggle, call us and we'll help them on (07) 3047 9533.
Google My Business for Accounting Firms Business local Growth Strategy
Google My Business allows is a simple way for small businesses to create a Google profile. It's easy to set up. https://www.google.com/business/?utm_source=GMB%3F#gmblist
Google My Business helps Accounting firms business owners, who might not be savvy with the internet, get online and start connecting with people searching for Accounting firms in their area. Google My Business listings can help grow awareness of your Accounting firm and drive more clients directly to your door.
Getting listed on Google My Business is simple but there are a few things you need to do first, like getting any reviews you have from customers onto the page. One way to get more reviews is by adding a review widget on your Accounting firms website. Contact us about our SEO Services and we can put this together for you in less than 24 hours.
You have to add some photos of your office or business location, and also some phone numbers for you and other staff like an accountant in the office. If you share the page across a number of platforms including Facebook, Twitter, LinkedIn etc – it is worth asking people who leave you a review to mark it as helpful. This will help your reputation online and lead to getting more customers through the door. Again, our SEO Services can help with this, and it will get you more potential clients.
With Google My Business, you also show up outside your website web presence and on Google Maps where small business contacts may look for a local accounting company or service.
In Summary: SEO Builds Your Leads In The Long Term
SEO for Accountants is all about a long term strategy, and doing what we suggest above will focus your efforts at the start and set up a good foundation to get new clients. The sooner you get started, the better your local search engine results will be and the more potential clients will call your Accounting firm.
If you are good with web design and have a small department that is aligned to Marketing, then please consider doing this for yourself. Even if you don't, just getting some basic SEO from a professional like us at Better Marketing Results will get your website to at least page 1 of the search results in Google.
Being on page 2 or further back has a negative impact on attracting new clients and can cost you money, time and headaches.
The sooner you can rank at the top of page 1 for your keywords – the better it is for your SEO strategy overall. There are a few things you can do yourself, but if you are ready to invest for the long term, then contact us using the form below or call us on (07) 3074 9533.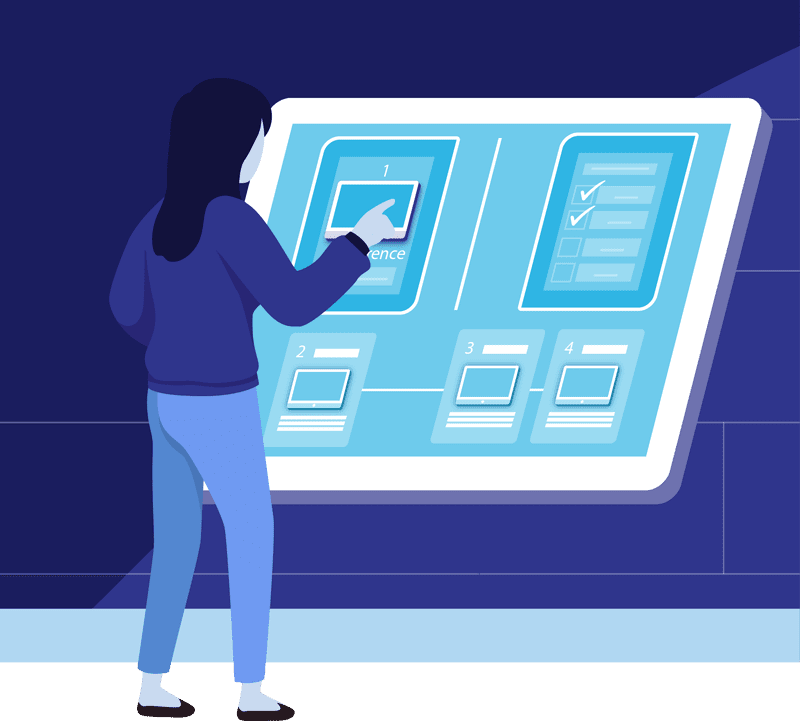 Check out our Pricing and Testimonials Page
Interested in our services? Click below to see our fully transparent pricing, and contact us for information on the specific Marketing Plan we put in place for Accounting firms.
Get in touch to find out more about our services using the form to the right